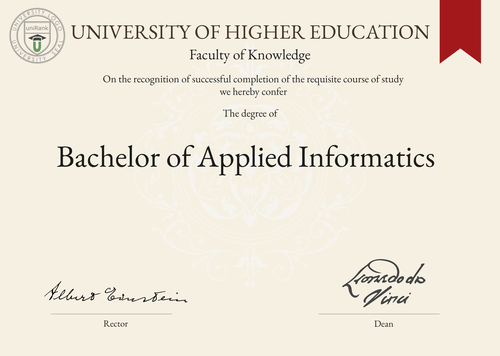 Program Name:
Bachelor of Applied Informatics
Program or Degree abbreviation:
B.A.I.
Duration range:
The duration of the program typically ranges from 3 to 4 years.
Tuition range:
The tuition fees for the program can vary depending on the country and university, ranging from $10,000 to $30,000 per year.
Overview:
The Bachelor of Applied Informatics program is designed to provide students with a comprehensive understanding of information technology and its practical applications in various industries. It focuses on developing skills in programming, database management, system analysis, and software development.
Curriculum Overview by year:
- Year 1: Introduction to Computer Science, Programming Fundamentals, Mathematics for Informatics, Database Systems - Year 2: Object-Oriented Programming, Web Development, Data Structures and Algorithms, Software Engineering - Year 3: Network Administration, Information Security, Human-Computer Interaction, Project Management - Year 4: Internship/Work Placement, Advanced Topics in Applied Informatics, Capstone Project
Key Components:
The key components of the program include hands-on programming experience, practical application of informatics concepts, project-based learning, and industry-relevant skills development.
Career Prospects:
Graduates of the Bachelor of Applied Informatics program can pursue various career paths in the field of information technology. They can work as software developers, database administrators, system analysts, IT consultants, web developers, or project managers in industries such as healthcare, finance, e-commerce, and telecommunications.
Salary Expectations:
The salary expectations for graduates of the program can vary depending on factors such as job role, industry, location, and level of experience. On average, professionals in the field of applied informatics can earn a starting salary of $50,000 to $70,000 per year, with potential for higher earnings as they gain more experience. For a more accurate understanding of salary expectations, you can utilize the
Job Sites Search Engine
, from our sister site jobRank, which searches over 4,600 job sites worldwide. Make sure to specify not only the job title but also the country you are interested in.
Conclusions:
It is important to note that the duration, tuition fees, curriculum, key components, career prospects, and salary expectations of the Bachelor of Applied Informatics program can vary depending on the country or location where you choose to study, as well as the university you select. Visitors interested in pursuing this degree are encouraged to use the uniRank
World Universities Search Engine
to find institutions offering the Bachelor of Applied Informatics program worldwide.