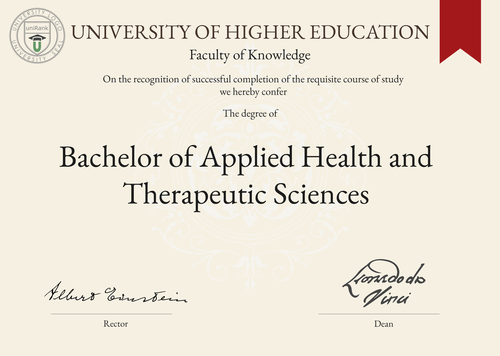 Program Name:
Bachelor of Applied Health and Therapeutic Sciences
Program or Degree abbreviation:
B.A.H.T.S.
Duration range:
The duration of the program typically ranges from 3 to 4 years.
Tuition range:
The tuition fees for the program can vary depending on the country or university chosen. It is recommended to check with specific institutions for accurate information.
Overview:
The Bachelor of Applied Health and Therapeutic Sciences program is designed to provide students with a comprehensive understanding of health sciences and therapeutic practices. It combines theoretical knowledge with practical skills to prepare graduates for various roles in the healthcare industry.
Curriculum Overview by year:
The curriculum is structured to cover a wide range of subjects related to health and therapeutic sciences. The specific courses may vary by university, but typically include: Year 1: Introduction to Health Sciences, Anatomy and Physiology, Medical Terminology, Introduction to Therapeutic Techniques. Year 2: Pathophysiology, Pharmacology, Therapeutic Modalities, Clinical Assessment. Year 3: Advanced Therapeutic Techniques, Health Promotion and Disease Prevention, Research Methods in Health Sciences. Year 4: Clinical Practicum, Specialized Therapeutic Interventions, Professional Ethics in Healthcare.
Key Components:
The key components of the program include a strong foundation in health sciences, hands-on training in therapeutic techniques, understanding of pathophysiology and pharmacology, and development of professional ethics and communication skills.
Career Prospects:
Graduates of the Bachelor of Applied Health and Therapeutic Sciences program can pursue various career paths in the healthcare industry. Some potential career options include: - Rehabilitation Therapist - Health Educator - Clinical Research Coordinator - Healthcare Consultant - Occupational Therapy Assistant - Physical Therapy Assistant
Salary Expectations:
The salary expectations for graduates of the program can vary depending on factors such as location, experience, and specific job role. It is advisable to research salary ranges in the chosen country or region for accurate information. For a more accurate understanding of salary expectations, you can utilize the
Job Sites Search Engine
, from our sister site jobRank, which searches over 4,600 job sites worldwide. Make sure to specify not only the job title but also the country you are interested in.
Conclusions:
It is important to note that the duration, tuition fees, curriculum, key components, career prospects, and salary expectations of the Bachelor of Applied Health and Therapeutic Sciences program can vary based on the country or location where the program is studied, as well as the university chosen. Prospective students are encouraged to explore different options and research specific institutions to find the best fit for their educational and career goals. Additionally, visitors interested in pursuing this specific degree can utilize the uniRank
World Universities Search Engine
to search for universities offering the Bachelor of Applied Health and Therapeutic Sciences program worldwide. This tool can help in finding institutions that offer the program in different countries and regions.