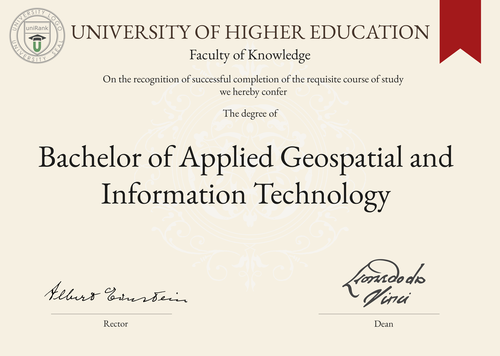 Program Name:
Bachelor of Applied Geospatial and Information Technology
Program or Degree abbreviation:
BAGIT
Duration range:
The duration of the program typically ranges from 3 to 4 years.
Tuition range:
The tuition fees for the program can vary depending on the country and university, ranging from $10,000 to $30,000 per year.
Overview:
The Bachelor of Applied Geospatial and Information Technology program is designed to provide students with a comprehensive understanding of geospatial technologies and their applications in various industries. Students will learn how to collect, analyze, and interpret geospatial data using advanced technology tools and software.
Curriculum Overview by year:
- Year 1: Introduction to Geospatial Technology, Fundamentals of GIS, Data Collection Techniques - Year 2: Remote Sensing, Spatial Analysis, Database Management - Year 3: Geospatial Programming, Cartography and Visualization, Geospatial Data Management - Year 4: Advanced Geospatial Analysis, Geospatial Project Management, Industry Internship
Key Components:
- Geospatial Technology: Students will gain hands-on experience with various geospatial tools and technologies. - GIS (Geographic Information System): Students will learn how to analyze and interpret spatial data using GIS software. - Remote Sensing: Students will explore the use of satellite imagery and aerial photography for data collection and analysis. - Database Management: Students will develop skills in managing and organizing geospatial data in databases. - Geospatial Programming: Students will learn programming languages and techniques for geospatial data analysis and visualization.
Career Prospects:
Graduates of the program can pursue careers in various industries, including urban planning, environmental management, natural resource exploration, transportation, and telecommunications. They can work as GIS analysts, geospatial data scientists, cartographers, remote sensing specialists, or geospatial project managers.
Salary Expectations:
The salary expectations for graduates of the Bachelor of Applied Geospatial and Information Technology program can vary depending on factors such as location, industry, and experience. On average, professionals in this field can earn between $50,000 and $80,000 per year. For a more accurate understanding of salary expectations, you can utilize the
Job Sites Search Engine
, from our sister site jobRank, which searches over 4,600 job sites worldwide. Make sure to specify not only the job title but also the country you are interested in.
Conclusions:
It is important to note that the duration, tuition fees, curriculum, key components, career prospects, and salary expectations of the Bachelor of Applied Geospatial and Information Technology program can vary depending on the chosen country or location for studying the program, as well as the chosen university. Visitors interested in pursuing this degree are encouraged to use the uniRank
World Universities Search Engine
to find universities offering this program worldwide.