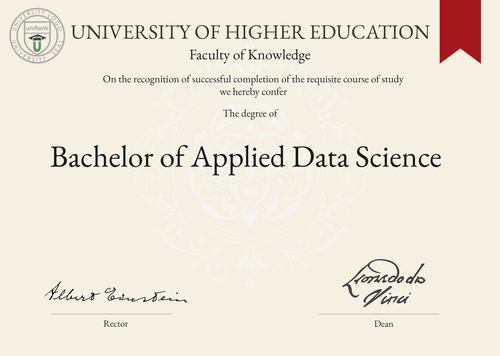 Degree Name:
Bachelor of Applied Data Science
Degree Abbreviation:
BADS
Duration Range:
3-4 years
Tuition Range (US, UK, AUS, NZ):
$20,000-$50,000 per year
Overview:
The Bachelor of Applied Data Science degree is designed to provide students with the skills and knowledge necessary to work with large data sets and extract meaningful insights. This degree program combines computer science, statistics, and business to prepare students for careers in data analysis, data management, and data visualization.
Curriculum Overview by Year:
First Year: Introduction to Computer Science, Calculus, Statistics, Data Structures and Algorithms
Second Year: Database Systems, Machine Learning, Data Mining, Data Visualization
Third Year: Big Data Analytics, Business Intelligence, Data Ethics, Capstone Project
Fourth Year: Internship, Advanced Topics in Data Science, Electives
Key Components:
Computer Science: Students will learn programming languages such as Python, R, and SQL to manipulate and analyze data.
Statistics: Students will learn statistical methods to analyze data and make predictions.
Business: Students will learn how to apply data science to solve business problems and make data-driven decisions.
Data Visualization: Students will learn how to create visual representations of data to communicate insights effectively.
Capstone Project: Students will work on a real-world data science project to apply their skills and knowledge.
Career Prospects:
Graduates of the Bachelor of Applied Data Science degree can pursue careers in a variety of industries, including finance, healthcare, marketing, and technology. Some job titles include data analyst, data scientist, business intelligence analyst, and data engineer.
Salary Expectations:
The salary for graduates of the Bachelor of Applied Data Science degree can vary depending on the industry and location. According to Glassdoor, the average salary for a data analyst is $67,377 per year, while the average salary for a data scientist is $113,309 per year.
For a more accurate understanding of salary expectations, you can utilize the
Job Sites Search Engine
, from our sister site jobRank, which searches over 4,600 job sites worldwide. Make sure to specify not only the job title but also the country you are interested in.
Conclusions:
It is important to note that the duration, tuition fees, curriculum, key components, career prospects, and salary expectations of the Bachelor of Applied Data Science degree can vary depending on the country and university where the degree is pursued. Visitors can search for where this specific degree is offered anywhere in the world through the uniRank World Universities Search Engine.