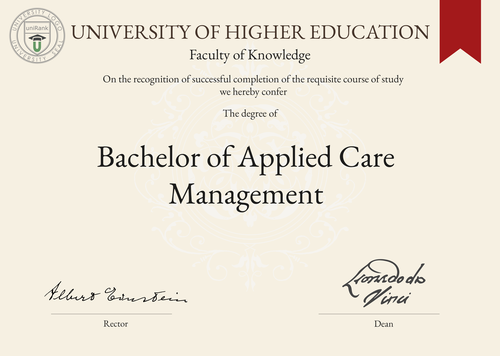 Program Name:
Bachelor of Applied Care Management
Program or Degree abbreviation:
BACM
Duration range:
The duration of the program typically ranges from 3 to 4 years.
Tuition range:
The tuition fees for the program can vary depending on the country and university. It is recommended to check with specific institutions for accurate information.
Overview:
The Bachelor of Applied Care Management program is designed to provide students with the knowledge and skills necessary to excel in the field of care management. This program combines theoretical learning with practical experience to prepare graduates for a successful career in managing care services.
Curriculum Overview by year:
- Year 1: Introduction to Care Management, Communication Skills, Health and Social Care Policies - Year 2: Care Planning and Assessment, Leadership in Care Management, Ethical Issues in Care - Year 3: Quality Assurance in Care Services, Financial Management in Care, Research Methods - Year 4: Advanced Care Management, Strategic Planning, Internship/Practicum
Key Components:
The key components of the Bachelor of Applied Care Management program include gaining a comprehensive understanding of care management principles, developing effective communication and leadership skills, learning about healthcare policies and regulations, and acquiring knowledge in financial management and quality assurance.
Career Prospects:
Graduates of the program can pursue various career opportunities in the field of care management. They can work in healthcare organizations, long-term care facilities, community care centers, government agencies, and non-profit organizations. Possible job roles include care manager, healthcare administrator, program coordinator, and policy analyst.
Salary Expectations:
The salary expectations for individuals with a Bachelor of Applied Care Management degree can vary depending on factors such as location, experience, and job position. It is advisable to research specific job markets and industries for accurate salary information. For a more accurate understanding of salary expectations, you can utilize the
Job Sites Search Engine
, from our sister site jobRank, which searches over 4,600 job sites worldwide. Make sure to specify not only the job title but also the country you are interested in.
Conclusions:
It is important to note that the duration, tuition fees, curriculum, key components, career prospects, and salary expectations of the Bachelor of Applied Care Management program can vary based on the chosen country or location of study, as well as the university offering the program. Prospective students are encouraged to explore different options and research specific institutions to find the best fit for their educational and career goals. Furthermore, visitors interested in pursuing a Bachelor of Applied Care Management degree can utilize the uniRank
World Universities Search Engine
to search for institutions offering this specific degree program anywhere in the world. This search engine provides a comprehensive database of universities and their respective programs, allowing individuals to find the most suitable options for their academic journey.