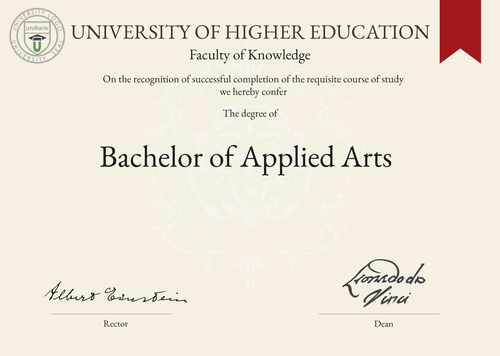 Degree Name:
Bachelor of Applied Arts
Degree Abbreviation:
BAA
Duration Range:
3-4 years
Tuition Range (US, UK, AUS, NZ):
$10,000-$50,000 per year
Overview:
The Bachelor of Applied Arts degree is a program that combines theoretical knowledge with practical skills to prepare students for a career in the arts. This degree is designed to provide students with a broad understanding of the arts and the skills needed to succeed in a variety of creative industries.
Curriculum Overview by Year:
First Year: Introduction to the Arts, Art History, Drawing, Painting, Sculpture
Second Year: Graphic Design, Photography, Printmaking, Digital Media, Creative Writing
Third Year: Advanced Studio Practice, Professional Practice, Portfolio Development, Internship
Fourth Year: Capstone Project, Exhibition, Thesis, Independent Study
Key Components:
The key components of a Bachelor of Applied Arts degree include a strong foundation in the arts, practical skills development, professional practice, and portfolio development. Students will also have the opportunity to gain real-world experience through internships and other hands-on learning opportunities.
Career Prospects:
Graduates of a Bachelor of Applied Arts degree can pursue a variety of careers in the arts, including graphic design, photography, advertising, publishing, and more. They may also choose to continue their education by pursuing a Master of Fine Arts degree.
Salary Expectations:
The salary expectations for graduates of a Bachelor of Applied Arts degree can vary depending on the industry and location. According to the Bureau of Labor Statistics, the median annual wage for graphic designers was $52,110 in May 2019.
For a more accurate understanding of salary expectations, you can utilize the
Job Sites Search Engine
, from our sister site jobRank, which searches over 4,600 job sites worldwide. Make sure to specify not only the job title but also the country you are interested in.
Conclusions:
It is important to note that the duration, tuition fees, curriculum, key components, career prospects, and salary expectations of a Bachelor of Applied Arts degree can vary depending on the country and university where the degree is pursued. Visitors can search for where this specific degree is offered anywhere in the world through the uniRank World Universities Search Engine.