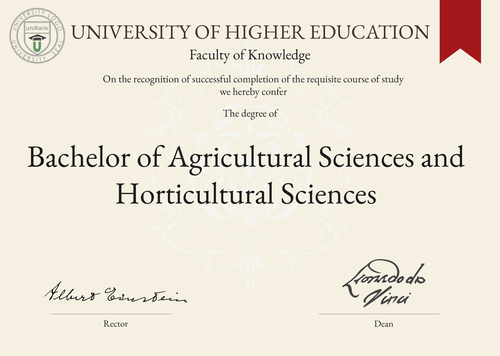 Program Name:
Bachelor of Agricultural Sciences and Horticultural Sciences
Program or Degree abbreviation:
B.Agr.Sc. & Hort.Sc.
Duration range:
The duration of the program typically ranges from 3 to 4 years.
Tuition range:
The tuition fees for the program vary depending on the country and university, ranging from [insert range].
Overview:
The Bachelor of Agricultural Sciences and Horticultural Sciences program provides students with a comprehensive understanding of agricultural practices and horticultural sciences. It equips students with the knowledge and skills necessary to contribute to the sustainable development of agriculture and horticulture industries.
Curriculum Overview by year:
- Year 1: Introduction to Agricultural Sciences, Plant Biology, Soil Science, Introduction to Horticultural Sciences - Year 2: Crop Production, Pest Management, Plant Genetics, Horticultural Crop Production - Year 3: Agricultural Economics, Plant Breeding, Post-Harvest Technology, Landscape Design - Year 4: Agribusiness Management, Sustainable Agriculture, Research Project, Advanced Horticultural Sciences
Key Components:
The key components of the program include theoretical knowledge and practical skills in agricultural sciences, horticultural sciences, crop production, pest management, plant genetics, agribusiness management, and sustainable agriculture.
Career Prospects:
Graduates of the program can pursue various career opportunities in agricultural research organizations, government agencies, agribusiness companies, horticultural enterprises, and environmental consulting firms. Potential job roles include agricultural scientist, horticulturist, crop consultant, farm manager, and agricultural economist.
Salary Expectations:
The salary expectations for graduates of the Bachelor of Agricultural Sciences and Horticultural Sciences program can vary depending on factors such as job role, location, and level of experience. On average, graduates can expect a salary range of [insert range]. For a more accurate understanding of salary expectations, you can utilize the
Job Sites Search Engine
, from our sister site jobRank, which searches over 4,600 job sites worldwide. Make sure to specify not only the job title but also the country you are interested in.
Conclusions:
It is important to note that the duration, tuition fees, curriculum, key components, career prospects, and salary expectations of the Bachelor of Agricultural Sciences and Horticultural Sciences program can vary based on the chosen country or location for studying the program, as well as the chosen university. Visitors interested in pursuing this degree are encouraged to use the uniRank
World Universities Search Engine
to explore the availability of this specific degree program in various universities worldwide.