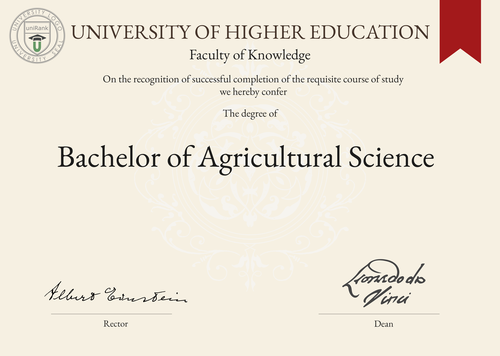 Degree Name:
Bachelor of Agricultural Science
Degree Abbreviation:
B.Ag.Sc.
Duration Range:
3-4 years
Tuition Range (US, UK, AUS, NZ):
Varies by country and university, typically between $10,000-$30,000 per year
Overview:
A Bachelor of Agricultural Science degree is designed to provide students with a comprehensive understanding of the agricultural industry. This degree program covers a wide range of topics, including plant and animal science, soil science, agricultural economics, and agricultural engineering. Students will learn about the latest technologies and techniques used in the industry, as well as the environmental and social impacts of agriculture.
Curriculum Overview by Year:
First Year: Introduction to Agricultural Science, Plant Science, Animal Science, Soil Science, Agricultural Economics
Second Year: Crop Production, Livestock Production, Agricultural Engineering, Agricultural Policy, Agricultural Marketing
Third Year: Agricultural Biotechnology, Environmental Science, Agricultural Law, Agricultural Finance, Agricultural Research Methods
Fourth Year: Agricultural Entrepreneurship, Agricultural Leadership, Agricultural Communications, Agricultural Extension, Capstone Project
Key Components:
Hands-on experience through internships and fieldwork
Opportunities to specialize in areas such as crop science, animal science, or agricultural economics
Access to cutting-edge technologies and research facilities
Development of critical thinking, problem-solving, and communication skills
Career Prospects:
Graduates of a Bachelor of Agricultural Science degree program can pursue a variety of careers in the agricultural industry, including:
Agricultural Scientist
Agricultural Engineer
Agricultural Economist
Agricultural Extension Agent
Agricultural Policy Analyst
Salary Expectations:
Salaries for graduates of a Bachelor of Agricultural Science degree program can vary widely depending on the specific career path chosen. According to the U.S. Bureau of Labor Statistics, the median annual salary for agricultural and food scientists was $65,160 in May 2020.
For a more accurate understanding of salary expectations, you can utilize the
Job Sites Search Engine
, from our sister site jobRank, which searches over 4,600 job sites worldwide. Make sure to specify not only the job title but also the country you are interested in.
Conclusions:
Overall, a Bachelor of Agricultural Science degree is an excellent choice for students interested in pursuing a career in the agricultural industry. However, it is important to note that the duration, tuition fees, curriculum, key components, career prospects, and salary expectations can vary significantly depending on the country and university where the degree is pursued. Visitors can search for where this specific degree (Bachelor of Agricultural Science) is offered anywhere in the world through the uniRank World Universities Search Engine.