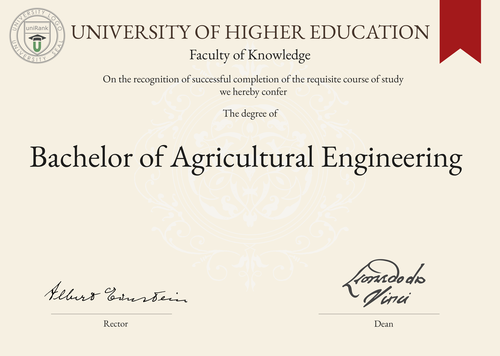 Degree Name:
Bachelor of Agricultural Engineering
Degree Abbreviation:
B.Agr.Eng.
Duration Range:
3-5 years
Tuition Range (US, UK, AUS, NZ):
$10,000-$50,000 per year
Overview:
A Bachelor of Agricultural Engineering degree is designed to provide students with the knowledge and skills necessary to design, develop, and maintain agricultural systems and equipment. This degree program combines engineering principles with agricultural science to create a unique and highly specialized field of study.
Curriculum Overview by Year:
First Year: Introduction to Agricultural Engineering, Calculus, Physics, Chemistry, and Biology
Second Year: Soil Mechanics, Fluid Mechanics, Thermodynamics, and Agricultural Machinery
Third Year: Irrigation and Drainage, Crop Production, Farm Structures, and Environmental Engineering
Fourth Year: Agricultural Processing, Precision Agriculture, Renewable Energy, and Agricultural Business Management
Fifth Year (Optional): Internship or Research Project
Key Components:
The key components of a Bachelor of Agricultural Engineering degree include a strong foundation in engineering principles, a deep understanding of agricultural science, and hands-on experience with agricultural systems and equipment. Students will also develop skills in project management, problem-solving, and communication.
Career Prospects:
Graduates of a Bachelor of Agricultural Engineering degree program can pursue a variety of careers in the agricultural industry, including agricultural engineering, farm management, agricultural research, and agricultural consulting. They may also work in government agencies, non-profit organizations, or private companies.
Salary Expectations:
The salary expectations for graduates of a Bachelor of Agricultural Engineering degree program vary depending on the specific career path they choose. According to the Bureau of Labor Statistics, the median annual wage for agricultural engineers was $80,720 in May 2020.
For a more accurate understanding of salary expectations, you can utilize the
Job Sites Search Engine
, from our sister site jobRank, which searches over 4,600 job sites worldwide. Make sure to specify not only the job title but also the country you are interested in.
Conclusions:
It is important to note that the duration, tuition fees, curriculum, key components, career prospects, and salary expectations of a Bachelor of Agricultural Engineering degree can vary depending on the country and university where the degree is pursued. Visitors can search for where this specific degree is offered anywhere in the world through the uniRank World Universities Search Engine.