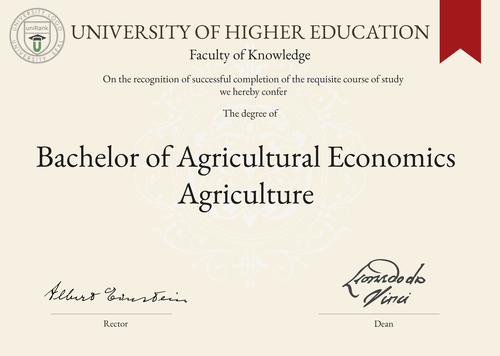 Program Name:
Bachelor of Agricultural Economics Agriculture
Program or Degree abbreviation:
B.Agr.Econ. Agri.
Duration range:
The duration of the program typically ranges from 3 to 4 years.
Tuition range:
The tuition fees for the program can vary depending on the country and university. It is recommended to check with specific institutions for accurate information.
Overview:
The Bachelor of Agricultural Economics Agriculture program provides students with a comprehensive understanding of agricultural economics and its application in the agricultural industry. Students gain knowledge in areas such as agricultural production, resource management, marketing, finance, and policy analysis.
Curriculum Overview by year:
- Year 1: Introduction to Agricultural Economics, Principles of Agriculture, Microeconomics, Mathematics for Agriculture - Year 2: Macroeconomics, Agricultural Marketing, Agricultural Finance, Agricultural Policy - Year 3: Agribusiness Management, Agricultural Production Economics, Econometrics, Agricultural Trade - Year 4: Rural Development, Environmental Economics, Research Methods, Elective Courses
Key Components:
- Understanding agricultural markets and their dynamics - Analyzing economic factors affecting agricultural production - Applying economic principles to agribusiness management - Evaluating agricultural policies and their impact on the industry - Developing skills in data analysis and research methods
Career Prospects:
Graduates of the program can pursue various career paths in the agricultural sector, including: - Agricultural economist - Agribusiness manager - Market analyst - Policy analyst - Agricultural consultant
Salary Expectations:
Salary expectations for graduates can vary depending on factors such as job position, location, and level of experience. It is advisable to research specific job markets for accurate salary information. For a more accurate understanding of salary expectations, you can utilize the
Job Sites Search Engine
, from our sister site jobRank, which searches over 4,600 job sites worldwide. Make sure to specify not only the job title but also the country you are interested in.
Conclusions:
It is important to note that the duration, tuition fees, curriculum, key components, career prospects, and salary expectations of the Bachelor of Agricultural Economics Agriculture program can vary: a) by the chosen country or location where the program is studied b) by the chosen university where the program is studied Visitors interested in pursuing this specific degree can utilize the uniRank
World Universities Search Engine
to find institutions offering the program worldwide.