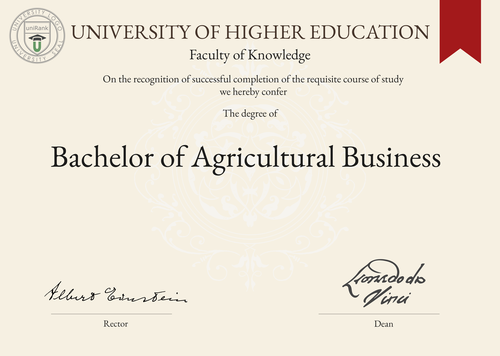 Program Name:
Bachelor of Agricultural Business
Program or Degree abbreviation:
B.Agr.Bus.
Duration range:
3-4 years
Tuition range:
Varies by country and university
Overview:
The Bachelor of Agricultural Business program is designed to provide students with a comprehensive understanding of the agricultural industry and the business principles that drive it. This program combines coursework in agriculture, economics, finance, marketing, and management to equip students with the knowledge and skills necessary to succeed in various roles within the agricultural sector.
Curriculum Overview by year:
Year 1: Introduction to Agricultural Business, Principles of Economics, Financial Accounting, Agricultural Marketing Year 2: Agribusiness Management, Agricultural Finance, Business Law, Agricultural Policy Year 3: International Agricultural Trade, Risk Management in Agriculture, Sustainable Agriculture, Agribusiness Strategy Year 4: Elective courses, Internship/Practicum, Capstone Project
Key Components:
- Understanding the agricultural industry and its challenges - Applying business principles to agricultural operations - Analyzing market trends and developing marketing strategies - Managing financial aspects of agricultural businesses - Exploring sustainable and ethical practices in agriculture
Career Prospects:
Graduates of the Bachelor of Agricultural Business program can pursue various career paths in the agricultural industry. Some potential job roles include agricultural business manager, farm manager, agricultural economist, agricultural policy analyst, agricultural marketing specialist, and agricultural finance officer.
Salary Expectations:
Salaries in the agricultural business field can vary depending on factors such as job role, location, and experience. Entry-level positions may have an average salary range of $40,000 to $60,000 per year, while senior-level positions can earn upwards of $100,000 per year. For a more accurate understanding of salary expectations, you can utilize the
Job Sites Search Engine
, from our sister site jobRank, which searches over 4,600 job sites worldwide. Make sure to specify not only the job title but also the country you are interested in.
Conclusions:
It is important to note that the duration, tuition fees, curriculum, key components, career prospects, and salary expectations of the Bachelor of Agricultural Business program can vary depending on the country or location where you choose to study, as well as the university you select. Visitors interested in pursuing this degree are encouraged to use the uniRank
World Universities Search Engine
to explore options for studying this program anywhere in the world.