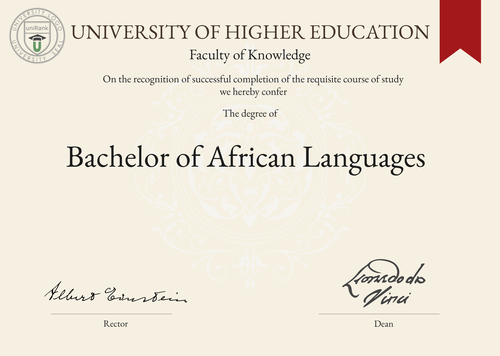 Program Name:
Bachelor of African Languages
Program or Degree abbreviation:
BAAL
Duration range:
3-4 years
Tuition range:
Varies depending on the country and university
Overview:
The Bachelor of African Languages program is designed to provide students with a comprehensive understanding of various African languages, cultures, and societies. This program aims to develop students' linguistic and cultural competence in African languages, enabling them to communicate effectively and engage with diverse African communities.
Curriculum Overview by year:
- Year 1: Introduction to African Languages, African Linguistics, African Cultural Studies - Year 2: Intermediate African Languages, African Literature, African History - Year 3: Advanced African Languages, African Sociolinguistics, African Oral Traditions - Year 4: Specialization in a specific African language, Research Project
Key Components:
- Language proficiency in various African languages - Cultural understanding and appreciation of African societies - Linguistic analysis and research skills - Critical thinking and analytical skills
Career Prospects:
Graduates of the Bachelor of African Languages program can pursue various career paths, including: - Language teaching and education - Translation and interpretation - Cultural consulting and international relations - Research and academia - Tourism and hospitality
Salary Expectations:
Salary expectations for graduates of the Bachelor of African Languages program can vary significantly depending on factors such as location, industry, and job role. It is important to note that salaries can range from entry-level positions to higher-paying roles with experience and expertise. For a more accurate understanding of salary expectations, you can utilize the
Job Sites Search Engine
, from our sister site jobRank, which searches over 4,600 job sites worldwide. Make sure to specify not only the job title but also the country you are interested in.
Conclusions:
It is important to consider that the duration, tuition fees, curriculum, key components, career prospects, and salary expectations of the Bachelor of African Languages program can vary depending on the chosen country or location of study, as well as the chosen university. Prospective students are encouraged to research and compare different universities and countries to find the best fit for their academic and career goals. Visitors can search for where this specific degree, Bachelor of African Languages (BAAL), is offered anywhere in the world through the uniRank
World Universities Search Engine
.