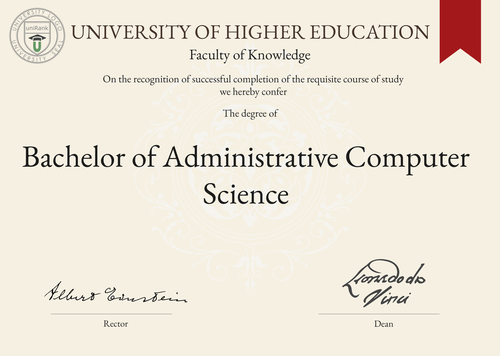 Program Name:
Bachelor of Administrative Computer Science
Program or Degree abbreviation:
BACS
Duration range:
3-4 years
Tuition range:
Varies depending on the country and university
Overview:
The Bachelor of Administrative Computer Science program is designed to provide students with a comprehensive understanding of computer science principles and their application in administrative settings. This program combines technical knowledge with business and management skills to prepare graduates for careers in various industries.
Curriculum Overview by year:
- Year 1: Introduction to Computer Science, Programming Fundamentals, Mathematics for Computer Science, Introduction to Business Administration - Year 2: Data Structures and Algorithms, Database Management Systems, Software Engineering, Organizational Behavior - Year 3: Operating Systems, Web Development, Project Management, Business Intelligence - Year 4: Network Security, Artificial Intelligence, Strategic Management, Internship or Capstone Project
Key Components:
- Computer Science Fundamentals - Business Administration Principles - Programming and Software Development - Database Management - Project Management
Career Prospects:
Graduates of the Bachelor of Administrative Computer Science program can pursue various career paths, including: - IT Project Manager - Database Administrator - Systems Analyst - Software Developer - Network Administrator
Salary Expectations:
Salaries for graduates of the Bachelor of Administrative Computer Science program can vary depending on factors such as location, industry, and experience. On average, professionals in this field can expect a competitive salary range. For a more accurate understanding of salary expectations, you can utilize the
Job Sites Search Engine
, from our sister site jobRank, which searches over 4,600 job sites worldwide. Make sure to specify not only the job title but also the country you are interested in.
Conclusions:
It is important to note that the duration, tuition fees, curriculum, key components, career prospects, and salary expectations of the Bachelor of Administrative Computer Science program can vary depending on the country or location where you choose to study, as well as the university you select. To find specific information about this degree program and where it is offered worldwide, visitors can utilize the uniRank
World Universities Search Engine
.