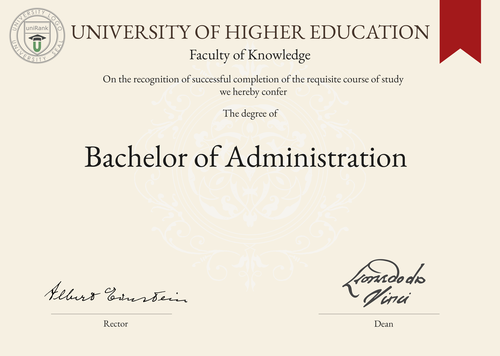 Degree Name:
Bachelor of Administration
Degree Abbreviation:
B.Admin
Duration Range:
The duration of a Bachelor of Administration program typically ranges from 3 to 4 years, depending on the country and university. Some programs may offer options for accelerated study or part-time enrollment, which can affect the duration.
Tuition Range (US, UK, AUS, NZ):
Tuition fees for a Bachelor of Administration degree can vary widely based on factors such as the country, university reputation and program format. On average, annual tuition fees can range from $5,000 to $20,000 or more. Scholarships and financial aid options may be available to students.
Overview
The Bachelor of Administration is a program that focuses on the principles of management, leadership and organizational administration. Students gain knowledge and skills related to business management, economics, finance and strategic planning.
Curriculum Overview by Year
Year 1:
Introduction to Business Administration
Principles of Management
Microeconomics
Year 2:
Macroeconomics
Business Communication
Financial Accounting
Year 3:
Marketing Management
Human Resource Management
Business Ethics and Corporate Social Responsibility
Year 4 (if applicable):
Strategic Management
International Business
Internship or Research Project
Key Components
Business Administration Principles
Leadership and Management Skills
Financial Analysis and Planning
Strategic Decision-Making
Business Ethics and Social Responsibility
Career Prospects
Graduates with a Bachelor of Administration degree have various career opportunities in fields such as:
Business Management
Financial Analysis
Human Resource Management
Marketing and Sales
Consulting
Entrepreneurship
Salary Expectations
Salary expectations for individuals with a Bachelor of Administration degree can vary widely based on factors such as job role, location and level of experience. On average, graduates can expect a starting salary ranging from $40,000 to $60,000 per year, with potential for higher earnings with further education and experience.
Conclusions
In conclusion, it's important to note that degree duration, tuition fees, curriculum, key components, career prospects and salary expectations for a Bachelor of Administration degree can vary:
By the chosen country and university where you study this degree.
Prospective students interested in pursuing a Bachelor of Administration degree can use the uniRank World Universities Search Engine to find institutions offering this program worldwide.