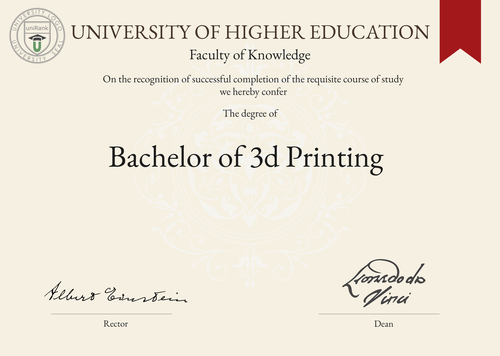 Program Name
Bachelor of 3D Printing
Program or Degree abbreviation
B3DP
Duration range
3-4 years
Tuition range
Varies depending on the country and university
Overview
The Bachelor of 3D Printing program is designed to provide students with a comprehensive understanding of the principles and applications of 3D printing technology. Students will learn how to design, create, and manipulate 3D models using various software tools. They will also gain hands-on experience in operating and maintaining 3D printers.
Curriculum Overview by year
Year 1: Introduction to 3D Printing, Computer-Aided Design (CAD), Materials Science Year 2: Advanced 3D Printing Techniques, Prototyping, Additive Manufacturing Year 3: 3D Printing in Engineering, Product Development, Quality Control Year 4: Research Project, Industrial Applications of 3D Printing, Entrepreneurship
Key Components
- Understanding of 3D printing technology and its applications - Proficiency in CAD software for designing 3D models - Hands-on experience in operating and maintaining 3D printers - Knowledge of materials used in 3D printing - Ability to troubleshoot and solve technical issues related to 3D printing
Career Prospects
Graduates of the Bachelor of 3D Printing program can pursue various career paths, including: - 3D Printing Technician - Product Designer - Manufacturing Engineer - Research and Development Specialist - Quality Control Engineer
Salary Expectations
Salaries for professionals in the field of 3D printing can vary depending on factors such as experience, location, and industry. On average, 3D printing technicians can earn between $40,000 and $60,000 per year, while more experienced professionals can earn upwards of $80,000 per year. For a more accurate understanding of salary expectations, you can utilize the
Job Sites Search Engine
, from our sister site jobRank, which searches over 4,600 job sites worldwide. Make sure to specify not only the job title but also the country you are interested in.
Conclusions:
It is important to note that the duration, tuition fees, curriculum, key components, career prospects, and salary expectations of the Bachelor of 3D Printing program can vary depending on the country or location where the program is studied, as well as the chosen university. Visitors interested in pursuing this degree are encouraged to use the uniRank
World Universities Search Engine
to find institutions offering the Bachelor of 3D Printing program worldwide.