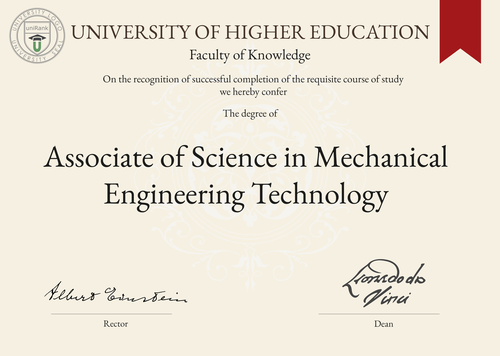 Program Name:
Associate of Science in Mechanical Engineering Technology
Program or Degree abbreviation:
ASMET
Duration range:
2-3 years
Tuition range:
Varies by country and university
Overview:
The Associate of Science in Mechanical Engineering Technology program provides students with a solid foundation in mechanical engineering principles and technical skills. It focuses on the application of engineering principles to the design, development, and maintenance of mechanical systems and components.
Curriculum Overview by year:
The curriculum is typically divided into two or three years, depending on the program structure. In the first year, students are introduced to fundamental concepts in mathematics, physics, and engineering. They also learn about computer-aided design (CAD) and manufacturing processes. In the second and/or third year, students delve deeper into topics such as thermodynamics, fluid mechanics, materials science, and mechanical system design.
Key Components:
The key components of the program include hands-on laboratory work, project-based learning, and internships or co-op opportunities. These components provide students with practical experience and help them develop problem-solving and teamwork skills.
Career Prospects:
Graduates of the Associate of Science in Mechanical Engineering Technology program can pursue various entry-level positions in industries such as manufacturing, automotive, aerospace, and energy. They may work as mechanical engineering technicians, CAD technicians, quality control technicians, or technical sales representatives.
Salary Expectations:
Salary expectations for graduates of this program can vary depending on factors such as location, industry, and level of experience. On average, mechanical engineering technicians earn a median annual salary of around $56,980 in the United States.
Conclusions:
It is important to note that program duration, tuition fees, curriculum, key components, career prospects, and salary expectations can vary based on the chosen country or location to study the program, as well as the chosen university. Prospective students are encouraged to research and compare different options to find the program that best suits their needs. Visitors can search for where this specific degree, Associate of Science in Mechanical Engineering Technology, is offered anywhere in the world through the uniRank
World Universities Search Engine
.