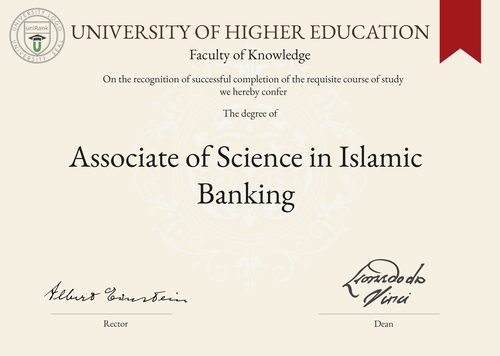 Program Name:
Associate of Science in Islamic Banking
Program or Degree abbreviation:
ASIB
Duration range:
Varies by country and university
Tuition range:
Varies by country and university
Overview:
The Associate of Science in Islamic Banking program provides students with a comprehensive understanding of the principles and practices of Islamic banking. It equips them with the necessary knowledge and skills to work in the growing field of Islamic finance.
Curriculum Overview by year:
The curriculum is designed to provide a strong foundation in Islamic banking principles and practices. It covers subjects such as Islamic economics, Islamic law, Islamic finance, risk management, and financial analysis. The program also includes practical training and internships to enhance students' practical skills.
Key Components:
- Understanding the principles of Islamic banking - Knowledge of Islamic finance products and services - Risk management in Islamic banking - Financial analysis and decision-making in Islamic banking - Practical training and internships
Career Prospects:
Graduates of the Associate of Science in Islamic Banking program can pursue various career opportunities in the Islamic banking and finance industry. They can work as Islamic banking officers, financial analysts, risk managers, investment advisors, or Shariah compliance officers in Islamic banks, financial institutions, and consulting firms.
Salary Expectations:
Salaries in the field of Islamic banking can vary depending on factors such as job position, experience, and location. Entry-level positions may have a salary range of $30,000 to $50,000 per year, while experienced professionals can earn $70,000 or more annually. For a more accurate understanding of salary expectations, you can utilize the
Job Sites Search Engine
, from our sister site jobRank, which searches over 4,600 job sites worldwide. Make sure to specify not only the job title but also the country you are interested in.
Conclusions:
It is important to note that the duration, tuition fees, curriculum, key components, career prospects, and salary expectations of the Associate of Science in Islamic Banking program can vary depending on the country or location where you choose to study and the university you select. To find specific information about this degree program and where it is offered worldwide, visitors can utilize the uniRank
World Universities Search Engine
.