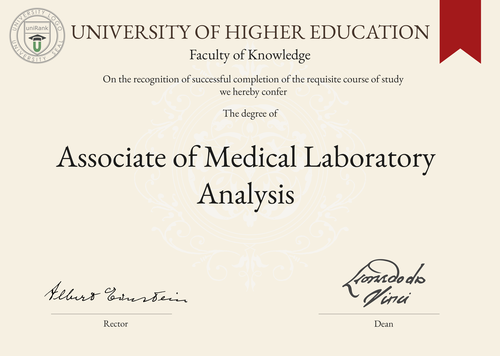 Program Name:
Associate of Medical Laboratory Analysis
Program or Degree abbreviation:
AMLA
Duration range:
Varies by country and university
Tuition range:
Varies by country and university
Overview:
The Associate of Medical Laboratory Analysis program is designed to provide students with the necessary knowledge and skills to work as medical laboratory technicians. This program focuses on laboratory procedures, equipment operation, sample analysis, and data interpretation. Students will learn to perform various tests and experiments, analyze results, and maintain laboratory equipment.
Curriculum Overview by year:
Year 1: - Introduction to Medical Laboratory Analysis - Anatomy and Physiology - Medical Terminology - Laboratory Safety - Clinical Chemistry - Hematology Year 2: - Microbiology - Immunology - Blood Banking - Urinalysis - Molecular Diagnostics - Clinical Practicum
Key Components:
- Laboratory procedures and techniques - Sample collection and analysis - Data interpretation and analysis - Laboratory equipment operation and maintenance - Quality control and assurance
Career Prospects:
Graduates of the Associate of Medical Laboratory Analysis program can pursue careers as medical laboratory technicians in hospitals, clinics, research laboratories, and diagnostic centers. They play a crucial role in assisting healthcare professionals in diagnosing and treating diseases.
Salary Expectations:
The salary expectations for medical laboratory technicians vary depending on factors such as experience, location, and the employing organization. On average, medical laboratory technicians can expect a competitive salary range. For a more accurate understanding of salary expectations, you can utilize the
Job Sites Search Engine
, from our sister site jobRank, which searches over 4,600 job sites worldwide. Make sure to specify not only the job title but also the country you are interested in.
Conclusions:
It is important to note that the duration, tuition fees, curriculum, key components, career prospects, and salary expectations of the Associate of Medical Laboratory Analysis program can vary depending on the country or location where you choose to study and the university you choose to attend. Visitors interested in pursuing this degree can use the uniRank
World Universities Search Engine
to find institutions offering the Associate of Medical Laboratory Analysis program worldwide.