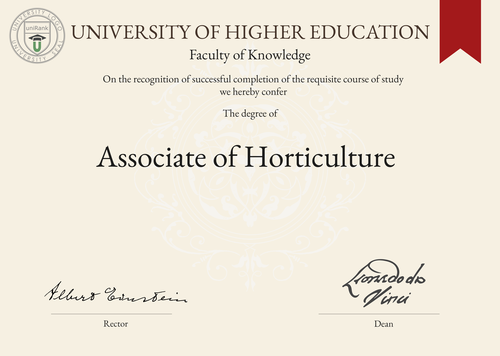 Program Name:
Associate of Horticulture
Program or Degree abbreviation:
A.H.
Duration range:
2-3 years
Tuition range:
Varies by country and university
Overview:
The Associate of Horticulture program provides students with a comprehensive understanding of horticulture principles and practices. It equips them with the necessary skills to work in various sectors of the horticulture industry.
Curriculum Overview by year:
The curriculum is designed to cover both theoretical knowledge and practical skills. In the first year, students learn the fundamentals of horticulture, including plant biology, soil science, and pest management. The second year focuses on specialized areas such as landscape design, greenhouse management, and plant propagation.
Key Components:
The program emphasizes hands-on experience through fieldwork, internships, and laboratory exercises. Students also gain knowledge in plant identification, plant nutrition, irrigation systems, and sustainable horticulture practices.
Career Prospects:
Graduates of the Associate of Horticulture program can pursue various career paths, including horticulture technician, greenhouse manager, landscape designer, nursery manager, or garden center supervisor. They can work in public or private gardens, nurseries, landscaping companies, or agricultural research institutions.
Salary Expectations:
Salaries for horticulture professionals vary depending on factors such as experience, location, and job position. On average, horticulture technicians earn around $35,000 to $45,000 per year, while managerial positions can earn upwards of $60,000 per year.
Conclusions:
It is important to note that the duration, tuition fees, curriculum, key components, career prospects, and salary expectations of the Associate of Horticulture program can vary based on the chosen country or location for studying the program, as well as the chosen university. Visitors interested in pursuing this degree can use the uniRank
World Universities Search Engine
to find institutions offering the Associate of Horticulture program worldwide.