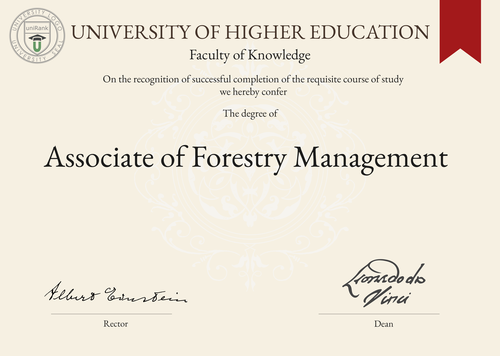 Program Name:
Associate of Forestry Management
Program or Degree abbreviation:
AFM
Duration range:
Typically 2-3 years
Tuition range:
Varies depending on the country and university, ranging from $5,000 to $20,000 per year
Overview:
The Associate of Forestry Management program provides students with a comprehensive understanding of forest ecosystems, sustainable forestry practices, and resource management. It equips students with the necessary skills to work in the forestry industry and contribute to the conservation and sustainable use of forest resources.
Curriculum Overview by year:
- Year 1: Introduction to Forestry, Forest Ecology, Forest Measurements, Forest Management Techniques - Year 2: Forest Health and Protection, Forest Policy and Law, Forest Economics, Forest Inventory and Planning - Year 3: Forest Operations, Silviculture, Forest Fire Management, Forest Resource Assessment
Key Components:
The program focuses on developing skills in forest management, forest inventory, silviculture, forest health, and forest operations. Students also gain knowledge in forest policy, economics, and resource assessment.
Career Prospects:
Graduates of the Associate of Forestry Management program can pursue various career paths in the forestry industry. They can work as forest technicians, forest managers, forest consultants, or environmental specialists in government agencies, private companies, or non-profit organizations.
Salary Expectations:
Salaries for individuals with an Associate of Forestry Management degree can vary depending on factors such as experience, location, and job position. On average, forestry technicians earn around $40,000 to $60,000 per year, while forest managers can earn between $60,000 and $90,000 annually.
Conclusions:
It is important to note that the duration, tuition fees, curriculum, key components, career prospects, and salary expectations of the Associate of Forestry Management program can vary depending on the country or location where you choose to study, as well as the university you select. Visitors interested in pursuing this degree can use the uniRank
World Universities Search Engine
to find institutions offering the Associate of Forestry Management program worldwide.