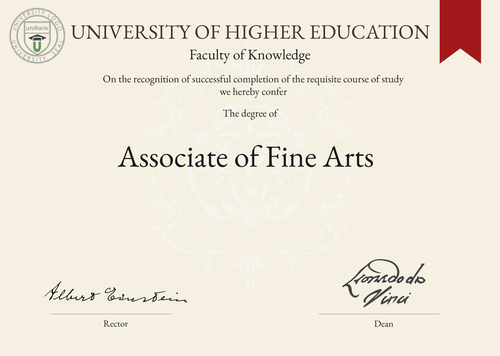 Program Name:
Associate of Fine Arts
Program abbreviation:
AFA
Duration range:
2-3 years
Tuition range:
Varies by country and university
Overview:
The Associate of Fine Arts (AFA) program is designed to provide students with a solid foundation in the field of fine arts. This program offers a comprehensive curriculum that covers various aspects of visual arts, including drawing, painting, sculpture, photography, and digital media. Students will develop their artistic skills, creativity, and critical thinking abilities through hands-on studio work, art history studies, and theoretical coursework.
Curriculum Overview by year:
Year 1: - Introduction to Drawing - Painting Techniques - Art History Survey - Sculpture Fundamentals - Digital Art and Design Year 2: - Advanced Drawing - Painting Styles and Concepts - Art Criticism and Analysis - Photography and Visual Communication - Specialization Electives
Key Components:
- Studio-based art courses - Art history and theory studies - Hands-on experience with various art mediums - Development of artistic skills and techniques - Critical analysis and interpretation of artworks
Career Prospects:
Graduates of the Associate of Fine Arts program can pursue various career paths in the art industry. Some potential career options include: - Fine artist - Illustrator - Graphic designer - Art teacher - Art gallery assistant - Art therapist
Salary Expectations:
Salary expectations for individuals with an Associate of Fine Arts degree can vary greatly depending on factors such as location, experience, and specific job role. It is important to note that salaries in the art industry can range from modest to high, depending on individual success and recognition. For a more accurate understanding of salary expectations, you can utilize the
Job Sites Search Engine
, from our sister site jobRank, which searches over 4,600 job sites worldwide. Make sure to specify not only the job title but also the country you are interested in.
Conclusions:
The duration, tuition fees, curriculum, key components, career prospects, and salary expectations of an Associate of Fine Arts program can vary based on the chosen country or location of study, as well as the university offering the program. Prospective students are encouraged to research and compare different universities and countries to find the best fit for their educational and career goals. Visitors can search for institutions offering the Associate of Fine Arts degree worldwide through the uniRank
World Universities Search Engine
, which provides comprehensive information on universities and their programs.