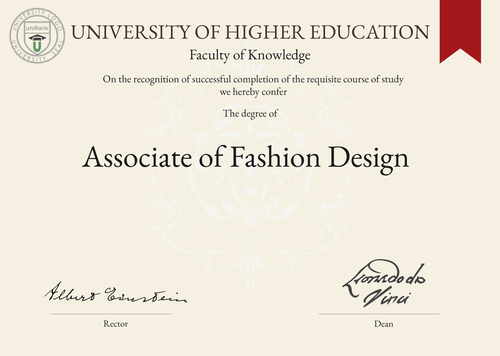 Program Name:
Associate of Fashion Design
Program or Degree abbreviation:
A.F.D.
Duration range:
2-3 years
Tuition range:
Varies by country and university
Overview:
The Associate of Fashion Design program provides students with a comprehensive understanding of the fashion industry and the skills necessary to pursue a career in fashion design. Students learn about fashion history, garment construction, textiles, pattern making, and fashion illustration.
Curriculum Overview by year:
The curriculum is divided into multiple semesters, covering various aspects of fashion design. In the first year, students focus on foundational courses such as fashion sketching, sewing techniques, and fashion history. In the second year, they delve deeper into advanced topics like draping, pattern making, and fashion marketing.
Key Components:
The key components of the program include hands-on design projects, industry internships, fashion shows, and collaborations with professionals in the field. Students also gain proficiency in industry-standard software used for fashion design.
Career Prospects:
Graduates of the Associate of Fashion Design program can pursue careers as fashion designers, fashion illustrators, pattern makers, fashion stylists, or fashion merchandisers. They can work in fashion houses, retail companies, textile manufacturers, or start their own fashion labels.
Salary Expectations:
Salary expectations for fashion design professionals vary depending on factors such as experience, location, and job position. Entry-level fashion designers can expect to earn an average salary of $40,000 to $60,000 per year, while experienced designers can earn significantly higher salaries.
Conclusions:
It is important to note that program duration, tuition fees, curriculum, key components, career prospects, and salary expectations can vary based on the chosen country or location to study the program, as well as the chosen university. Visitors interested in pursuing an Associate of Fashion Design degree can use the uniRank
World Universities Search Engine
to find universities offering this specific degree anywhere in the world.