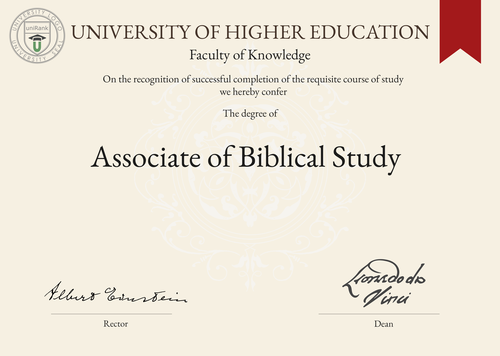 Program Name:
Associate of Biblical Study
Program or Degree abbreviation:
ABS
Duration range:
Varies by country and university
Tuition range:
Varies by country and university
Overview:
The Associate of Biblical Study program is designed to provide students with a foundational understanding of biblical principles, theology, and Christian ministry. This program equips students with the knowledge and skills necessary to interpret and apply biblical teachings in various contexts.
Curriculum Overview by year:
Year 1: - Introduction to the Old Testament - Introduction to the New Testament - Biblical Hermeneutics - Christian Theology - Church History Year 2: - Biblical Exegesis - Systematic Theology - Christian Ethics - Apologetics - Elective courses in specialized areas
Key Components:
- In-depth study of the Old and New Testaments - Development of biblical interpretation skills - Understanding of Christian theology and ethics - Exploration of church history and its impact on contemporary Christianity - Elective courses to specialize in specific areas of interest
Career Prospects:
Graduates of the Associate of Biblical Study program can pursue various career paths within the religious and non-profit sectors. Some potential career options include: - Church ministry roles (e.g., pastor, youth minister, worship leader) - Christian counseling - Missions and outreach work - Non-profit organization leadership - Religious education
Salary Expectations:
Salary expectations for individuals with an Associate of Biblical Study degree can vary significantly depending on factors such as location, experience, and specific job roles. It is important to note that many careers in this field are driven by passion and a desire to serve rather than high financial compensation. For a more accurate understanding of salary expectations, you can utilize the
Job Sites Search Engine
, from our sister site jobRank, which searches over 4,600 job sites worldwide. Make sure to specify not only the job title but also the country you are interested in.
Conclusions:
The Associate of Biblical Study program offers a solid foundation in biblical knowledge, theology, and ministry skills. However, it is essential to consider that program duration, tuition fees, curriculum, key components, career prospects, and salary expectations can vary based on the chosen country or location of study, as well as the specific university offering the program. Visitors interested in pursuing this degree are encouraged to utilize the uniRank
World Universities Search Engine
to explore institutions worldwide that offer the Associate of Biblical Study program.