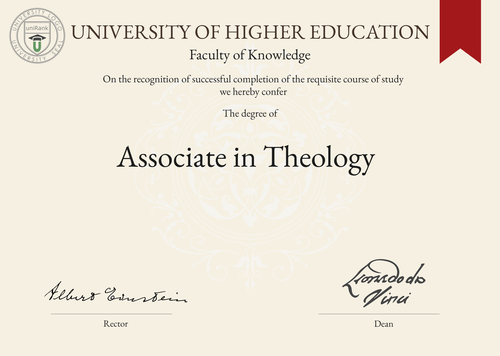 Program Name:
Associate in Theology
Program or Degree abbreviation:
A.Th.
Duration range:
Varies by country and university, typically 2-3 years
Tuition range:
Varies by country and university, typically $5,000-$20,000 per year
Overview:
The Associate in Theology program provides students with a foundational understanding of theological principles and practices. It is designed to equip individuals with the knowledge and skills necessary for entry-level positions in religious organizations or further studies in theology.
Curriculum Overview by year:
- Year 1: Introduction to Theology, Biblical Studies, Church History, Ethics - Year 2: Systematic Theology, Pastoral Care, Homiletics, Electives
Key Components:
- Theological Foundations: Students gain a comprehensive understanding of theological concepts and doctrines. - Biblical Studies: Emphasis is placed on the interpretation and application of biblical texts. - Church History: Students explore the historical development of Christianity and its impact on contemporary practices. - Pastoral Care: Focuses on providing support and guidance to individuals and communities within a religious context. - Homiletics: Equips students with the skills necessary for effective preaching and public speaking.
Career Prospects:
Graduates of the Associate in Theology program can pursue various career paths, including: - Pastoral roles in churches or religious organizations - Youth ministry - Chaplaincy - Religious education
Salary Expectations:
Salaries for individuals with an Associate in Theology degree can vary significantly depending on factors such as location, experience, and specific job role. On average, salaries range from $30,000 to $50,000 per year. For a more accurate understanding of salary expectations, you can utilize the
Job Sites Search Engine
, from our sister site jobRank, which searches over 4,600 job sites worldwide. Make sure to specify not only the job title but also the country you are interested in.
Conclusions:
It is important to note that the duration, tuition fees, curriculum, key components, career prospects, and salary expectations of the Associate in Theology program can vary based on the chosen country or location of study, as well as the specific university offering the program. Prospective students are encouraged to research and compare different options to find the best fit for their individual needs and goals. Visitors interested in pursuing an Associate in Theology degree can use the uniRank
World Universities Search Engine
to explore universities worldwide that offer this specific degree. This search engine provides a comprehensive database of universities, allowing individuals to find the most suitable options for their theological education.