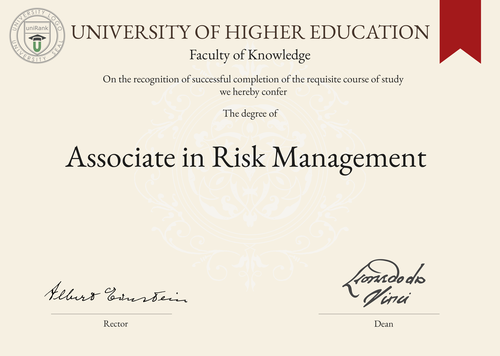 Program Name:
Associate in Risk Management
Program or Degree abbreviation:
ARM
Duration range:
Varies by country and university
Tuition range:
Varies by country and university
Overview:
The Associate in Risk Management (ARM) program is designed to provide students with a comprehensive understanding of risk management principles and practices. It equips students with the necessary skills to identify, assess, and mitigate risks in various industries and organizations.
Curriculum Overview by year:
The curriculum of the ARM program is structured to cover a wide range of topics related to risk management. In the first year, students typically study foundational courses such as Introduction to Risk Management, Risk Assessment, and Risk Control. In the second year, they delve deeper into advanced topics such as Enterprise Risk Management, Insurance and Risk Financing, and Risk Management Strategies.
Key Components:
The key components of the ARM program include risk identification, risk assessment, risk control, risk financing, and risk management strategies. Students learn how to analyze potential risks, develop risk management plans, and implement effective risk mitigation strategies.
Career Prospects:
Graduates of the ARM program have a wide range of career opportunities in various industries such as insurance, finance, consulting, and risk management departments of organizations. They can work as risk analysts, risk managers, underwriters, risk consultants, or risk control specialists.
Salary Expectations:
The salary expectations for ARM program graduates vary depending on factors such as location, industry, and level of experience. Generally, professionals in the field of risk management can earn competitive salaries, with the potential for growth as they gain more experience and expertise. For a more accurate understanding of salary expectations, you can utilize the
Job Sites Search Engine
, from our sister site jobRank, which searches over 4,600 job sites worldwide. Make sure to specify not only the job title but also the country you are interested in.
Conclusions:
It is important to note that the duration, tuition fees, curriculum, key components, career prospects, and salary expectations of the Associate in Risk Management program can vary depending on the country or location where the program is studied, as well as the chosen university. Prospective students are advised to research and compare different programs and universities to find the best fit for their individual needs and goals. Visitors interested in pursuing the Associate in Risk Management degree can use the uniRank
World Universities Search Engine
to search for universities offering this program anywhere in the world. This search engine provides a comprehensive database of universities and their programs, allowing individuals to find the most suitable options for their education.