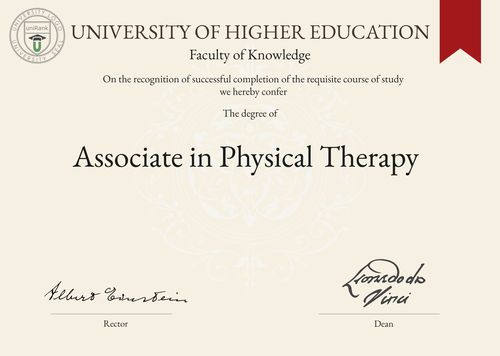 Program Name:
Associate in Physical Therapy
Program abbreviation:
A.P.T.
Duration range:
2-3 years
Tuition range:
Varies by country and university
Overview:
The Associate in Physical Therapy program is designed to provide students with the foundational knowledge and skills necessary to assist physical therapists in the treatment and rehabilitation of patients. This program combines theoretical coursework with practical training to prepare students for entry-level positions in the field of physical therapy.
Curriculum Overview by year:
- Year 1: Introduction to Physical Therapy, Anatomy and Physiology, Medical Terminology, Therapeutic Modalities - Year 2: Musculoskeletal Rehabilitation, Neurological Rehabilitation, Pediatric Physical Therapy, Clinical Practice
Key Components:
- Understanding human anatomy and physiology - Learning therapeutic techniques and modalities - Gaining practical experience through clinical practice - Assisting physical therapists in patient care and rehabilitation
Career Prospects:
Graduates of the Associate in Physical Therapy program can pursue various career opportunities in settings such as hospitals, rehabilitation centers, sports clinics, and private practices. They may work as physical therapy assistants, rehabilitation aides, or exercise specialists.
Salary Expectations:
The salary expectations for individuals with an Associate in Physical Therapy degree can vary depending on factors such as location, years of experience, and specific job role. On average, physical therapy assistants earn a competitive salary that ranges from $40,000 to $60,000 per year. For a more accurate understanding of salary expectations, you can utilize the
Job Sites Search Engine
, from our sister site jobRank, which searches over 4,600 job sites worldwide. Make sure to specify not only the job title but also the country you are interested in.
Conclusions:
It is important to note that the duration, tuition fees, curriculum, key components, career prospects, and salary expectations of the Associate in Physical Therapy program can vary based on the chosen country or location for studying the program, as well as the chosen university. Prospective students are encouraged to research and compare different options to find the program that best suits their needs. Visitors can utilize the uniRank
World Universities Search Engine
to search for institutions offering the Associate in Physical Therapy degree worldwide.