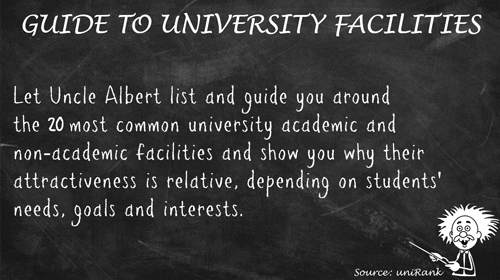 What are University Facilities? University facilities are the physical spaces and resources that universities provide to their students, faculty, and staff. These facilities are designed to support the academic, social, and personal needs of the university community. Below, uniRank will provide a list of 20 most common university facilities. Some are very common facilities that any university provides, no matter the country, while others are more unique, rare, or specialized facilities that are typically offered by large-sized universities, especially in developed countries.
List of University Facilities
University Classrooms and Lecture Halls

Classrooms and lecture halls are spaces used for teaching and learning and are the core of any academic institution. They can be equipped with audio-visual equipment (i.e., projectors, speakers, etc.) and other resources that support effective teaching and learning.

University Library

The university library, or libraries if more than one, is a resource center that provides access to books, journals, databases, and other hardcopy or electronic materials that support research and learning.

University Computer Labs

University computer labs are spaces used for teaching and learning and are equipped with computers and software programs that support academic work. Similarly to classrooms, they may also be equipped with audio-visual equipment and other resources that support effective teaching and learning. Students can use these labs to complete assignments, conduct research, and access online resources.

University Laboratories

University laboratories are spaces provided for students and faculty staff who want to conduct practical training, experiments or research. These laboratories are equipped with specialized equipment and resources that support scientific inquiry. Laboratories are more common in universities with medical, technical, or engineering-related fields of study.

University Housing

University housing is a type of accommodation for students who live on campus or, if off-campus, still provided by the university itself for its students. This includes dormitories, apartments, residencies, and other types of coed or single-gender housing.

University Sport Facilities

Sports facilities are structures, complexes, fields, tracks, grounds, courts, or any other sport-related space provided for students who want to participate in sports activities. These facilities include stadiums, gyms, swimming pools, tennis courts, and other types of sports facilities.

University Auditoriums and Theaters

Auditoriums and theaters are facilities used for large-scale performances, lectures, and other academic or entertainment events that enrich students' cultural experiences. They are usually equipped with audio-visual equipment and other resources that support effective production and communication.

Research Centers and Institutes

University research centers and institutes are specialized academic divisions created for students and faculty who want to conduct research in specific areas, promoting innovation and knowledge creation. These centers and institutes usually include university laboratories and are equipped with specialized equipment and resources that support research activities.

Academic and Career Counseling Offices

The academic counseling office is a resource center that provides academic advising services to students and orientation in their academic journey. These services include course selection advice, academic planning advice, etc. The career counseling office is a resource center that provides career advising services to students who are looking for a job during or after university studies. These services include job search advice, resume writing advice, etc.

Printing and Copying Service Spaces

These spaces provide printing, copying, and scanning services for academic materials and are usually annexed to a University Library.

Cafeterias and Dining Halls

University cafeterias and dining halls are eating facilities for students who want to eat on campus. These facilities may offer a variety of food options that meet different dietary needs and are a good opportunity to meet and socialize with fellow students and promote a sense of community.

Study Lounges

University study lounges are quiet spaces for students who want to study in groups or individually. These lounges are equipped with tables, chairs, etc. Sometimes they are part of the University Library.

Student Organization Spaces and Recreation Centers

Student Organization spaces and recreation centers are spaces for student organizations such as clubs, societies, associations and other student-run groups. These spaces are used for meetings, events or recreational activities.

University Health Center vs Institutional Hospital

The health center is a resource center that provides medical services to students. These services include medical consultations, vaccinations, health education programs, etc. It should not be confused with a university institutional hospital, which is a full-scale hospital affiliated with a university medical school to provide training to medical students.

Language Labs

University language labs are specialized rooms for students who want to learn a foreign language. These labs are equipped with audio-visual equipment and other resources that support language learning.

Art Studios

Art studios are spaces for students studying fine arts, music, or other creative disciplines to unleash their artistic potential. They are usually found in Arts Academies and Universities with arts-related fields of study.

Prayer and Meditation Rooms

Prayer and Meditation Rooms are rooms for religious or spiritual practices, fostering an inclusive campus environment. They are more common in religiously affiliated universities and in countries with a strong religious presence in society.

Child Care Centers

Child care centers are facilities provided to students who have children. These centers offer child care services while parents attend classes or work on campus. They are more common in universities that target older or adult learners.

Alumni Center

The alumni center is a resource center or office that provides services to alumni and/or a hub for graduates to connect with the university and fellow alumni, fostering networking opportunities.

Parking Lots

University parking lots are spaces for students who have cars and commute to the university. These parking lots are located on campus or near campus.
How University Facilities Affect Prospective Students Decision Making
University facilities can have a significant impact on a student's decision to attend a particular university.
For example, prospective student-athletes or individuals interested in physical activities may be more likely to choose a university that has state-of-the-art sports facilities.
Similarly, if a student is interested in research, they may be more likely to choose a university that has well-equipped and renowned research centers and institutes as well as a large university library with an extensive hardcopy and electronic collection.
Prospective students may also choose universities with state-of-the-art classrooms and lecture halls with modern audio-visual equipment because it creates a conducive learning environment, enhance students' engagement in classes and improve their overall learning experience.
On-campus housing and residential facilities can greatly impact a student's sense of community and belonging. Prospective students may choose universities with attractive and supportive housing options, as it can contribute to a positive campus experience.
Prospective students often consider the availability of student organizations and recreational spaces on campus. A vibrant and diverse student life and culture with opportunities to participate in clubs, events and social activities can also be a significant draw.
Access to cutting-edge technology and computer labs can be appealing to students pursuing fields in science, engineering, and technology. Institutions that prioritize technological advancement may attract students with an interest in these areas.
Art studios, music rooms, and performance theaters can attract students passionate about creative arts and cultural activities. The availability of parking lots, shuttle services, and convenient transportation options can influence the decision of students who plan to commute or travel frequently.
Prayer and meditation rooms, as well as facilities supporting diverse cultural groups, can be significant for prospective students seeking a welcoming and inclusive campus environment as well as a spiritual aspect of the academic journey.
Prospective students who are parents may prioritize universities with on-campus child care centers, as it can ease the challenge of balancing family responsibilities with academics.
In conclusion, university facilities, as the examples mentioned earlier show, along with the chosen field of study, program offerings, university location, and cost considerations, collectively play a pivotal role in shaping prospective students' decisions about their educational journey. Each student's priorities and preferences may vary, making it essential for them to carefully assess and consider the university facilities to ensure they find the right fit for their academic and personal growth. Making an informed decision about university facilities can greatly enhance the overall college experience and contribute to a successful and fulfilling educational path.
uniRank and University Facilities
uniRank provides, when available, information about some main university facilities mentioned above in its university reviews, helping prospective students make informed choices.
We believe university facilities are an important part of the university experience. They provide the physical spaces and resources that support academic, social and personal growth. Prospective students should carefully consider the university facilities of each institution they are considering applying to to take the right decision for their academic and career goals.

© uniRank