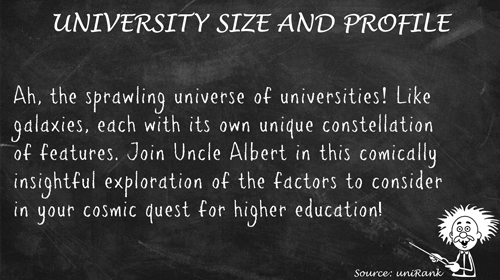 Choosing the right university is a crucial decision that significantly impacts a student's academic journey and future career. Two important factors to consider are university size indicators and profile identifiers. These factors play a key role in shaping the overall experience and opportunities available to prospective students. In this article, uniRank explore the significance of university size and profile and their influence on the decision-making process of students.
University Size Indicators
University size indicators encompass various metrics, including total enrollment, total faculty or number of academic staff and the number of academic divisions such as faculties or departments. These indicators offer insights into the scale and scope of the university, which can significantly impact prospective students' decision-making process when choosing a university.
University Profile Identifiers
University profile identifiers encompass the control type (public or private) and entity type (non-profit or for-profit) of the institution. These factors contribute to the university's identity and mission and they can influence the preferences and priorities of prospective students when selecting a university.
Other University Profile Factors
Several other university profile items can significantly impact a student's decision-making process:
Campus Setting: the location and environment of the campus (urban, suburban, rural) can affect students' access to resources, cost of living, transportation options, social life and safety.
Academic Calendar System: the type of academic calendar (semesters, trimesters, etc.) can impact the pace and structure of the academic year, potentially influencing study and extracurricular planning.
Religious Affiliation: understanding the religious affiliation of a university can help students determine if it aligns with their personal beliefs and values.
Disability-Friendly: accessibility and support for students with disabilities can be a critical consideration for prospective students with specific needs.
How University Size and Profile Can Affect Student Choices
University size and profile can impact a student's choice in various ways:
Cost: private for-profit universities generally have higher tuition fees than public or not-for-profit universities.
Resources: a larger university may have more resources available to its students, including research facilities, libraries and extracurricular activities. However, a smaller university may offer a more personalized experience and smaller class sizes.
Networking: a larger university may offer more opportunities for networking and building connections with other students and professionals in your field, but smaller universities may offer a tighter-knit community and more personalized networking opportunities.
Quality of Education: a university with a lower student-staff ratio, for example, typically means that students will receive more personalized attention from their lecturers. This can lead to more individualized instruction, more opportunities for feedback and guidance, and a better learning experience overall.
Location: as explained above, campus setting can have an impact on students' access to resources, cost of living, transportation, social life and safety.
Diversity: the size and profile of a university can impact the diversity of its student body, faculty and curriculum. Larger universities may attract more international students and offer a wider range of academic programs, while smaller universities may have a more homogenous population.
Religious Affiliation: while it may not be the most important factor for everyone, understanding the religious affiliation of a university can help students determine if it aligns with their personal beliefs and provide a unique academic and spiritual experience.
uniRank provides size indicators and profile identifiers for each university it reviews, offering valuable insights for prospective students.




When choosing a university, prospective students should carefully consider the size indicators and profile identifiers of each institution they are considering. The importance of university size and profile can vary depending on the student's individual goals, beliefs and priorities. Along with other criteria such as academic programs, location, cost and university culture, these factors will help students make the right decision for their academic and career goals.

© uniRank