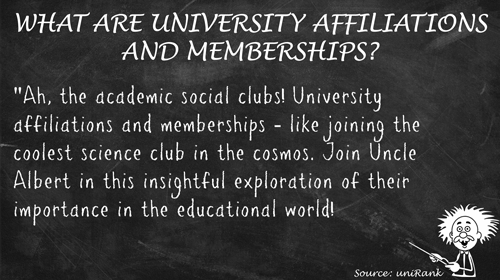 What are University affiliations and memberships? What types of organizations do universities affiliate with? How are affiliations and memberships important to universities and students? uniRank tries to answer these questions in the following article.
What are University affiliations and memberships?
University affiliations and memberships refer to the formal relationships and associations that universities establish with various organizations, networks and groups at regional, national or international levels. These affiliations and memberships serve multiple purposes, including enhancing academic and research collaborations, expanding institutional networks and improving the overall reputation and standing of the university.
What types of organizations do universities affiliate with?
Below, uniRank lists some common types of university affiliations and memberships:
Associations, Alliances and Consortiums: universities may join consortiums, alliances or associations that bring together multiple educational institutions to collaborate on specific projects, share resources or advocate for common interests.
International Associations: universities can become members of international associations focused on higher education, which allow them to participate in global dialogues and initiatives related to academic standards, policies and practices.
Research Networks: medium and large universities with a postgraduate level of offering often become members of research networks that focus on specific fields of study or interdisciplinary research. These networks facilitate collaboration, funding opportunities and the sharing of research findings.
Athletic Conferences: universities with competitive sports programs may join athletic conferences, which organize sports competitions and events among member institutions. This is especially the case in the North American higher education systems.
International Exchange Programs: universities may establish affiliations with partner institutions in different countries to facilitate student exchange programs, faculty collaborations and joint research initiatives. An excellent example of such a category is the Erasmus+ programme in the European countries.
Professional or Industry Organizations: universities may be affiliated with various professional organizations related to the disciplines they offer. These organizations provide opportunities for networking, professional development, staying updated on industry trends and, in some cases, programmatic accreditation services for the programs and courses offered by universities.
Public and Private Partnerships: universities might form partnerships with government agencies, non-profit organizations or private companies to collaborate on specific projects, conduct research or address societal challenges.
Alumni Associations: universities often have alumni associations that allow former students to maintain connections with their alma mater, participate in events and support the university's activities and funding.
Scholarly Journals and Publications: universities may be affiliated with or publish their academic journals and publications, which contribute to the dissemination of research and knowledge within specific fields.
It is important to note that the types of affiliations and memberships can vary significantly from one university to another based on their country location, focus areas, research priorities and strategic objectives. uniRank, on this regards, provides a list of higher education-related organizations by country which includes some relevant categories to find out more about university associations and alliances as well as professional and industry organizations. When available and submitted by the Universities themselves, uniRank also provides a list of organizations each University is affiliated with.
How are affiliations and memberships important to universities and students?
Collaboration and networking: they can provide opportunities for collaboration and networking with other universities, academic institutions and industry partners. This can lead to joint research projects, sharing of resources and expertise and collaborations on educational programs and initiatives.
Access to resources: they can provide access to a wide range of resources, including research facilities, academic journals and funding opportunities. This can be especially beneficial for smaller or less well-resourced universities, which may not have the same level of access to resources as larger and more established institutions.
Quality assurance: membership in professional or industry organizations can provide a level of quality assurance for Universities, ensuring that they meet certain standards and requirements in terms of academic programs, research and student support services. Students embarking on their higher education journey in those countries where program accreditation plays a vital role should pay lots of attention to which University has been accredited for the specific field of study and programs they are interested in. However, membership in an organization does not necessarily imply a formal accreditation or quality assurance process for the University's programs.
Recognition and reputation: membership in prestigious or exclusive organizations can enhance the reputation and recognition of a university, both locally and internationally. This can lead to increased visibility and opportunities for collaboration and partnerships.
Internationalization: memberships and affiliations can facilitate internationalization efforts, including student and faculty exchange programs, joint research initiatives and collaborations with international partners. This can help to broaden the global perspective of a university and provide opportunities for students and faculty to gain international experience and exposure.
In summary, university memberships and affiliations can provide a range of benefits for universities and their stakeholders (students, faculty and staff), including collaboration and networking opportunities, access to resources, quality assurance, recognition, reputation and internationalization. These memberships and affiliations play an important role in fostering academic growth and enhancing the overall educational experience for students and faculty.

© uniRank